We are thrilled to be part of an evening that has been months in the making! Andrew Stefanou Salon & Spa is hosting a "Spring Fever Girls Beauty (and fashion) Night" on April 5th from 6 pm till 9 pm at their salon and spa, so be sure to mark it down on your calendar, as this is sure to be a great evening!
Dr. Newman has the role of Medical Director at Andrew Stefanou Salon & Spa and will be there that evening to discuss the new "natural" botox, Xeomin, as well as new fillers that can last up to 12 months. Nervous yourself about getting fillers or Botox? We will have a live demonstration that evening to show you how quick and easy it is! So simple you can do it on your lunch hour! We will also be giving away 5 Xeomin ("natural" Botox) treatments, and the only thing you'll have to do is to put your name or business card in! We will pick the 5 lucky ladies at the end of the evening, so you will want to stay around to see if your name gets picked! We are so excited, as this event will not only be fun and informative, but will also be an evening to raise money for a wonderful charity — Smile Train. Smile Train focues on repairing the smiles of children born with cleft palate, and for only $250 a child will be able to look into the mirror and love what they see! We think that's a pretty great thing!
What's Planned:
EVERYTHING YOU WANT TO KNOW ABOUT THE NEW FILLERS & "NATURAL BOTOX": Answers to your questions on all things fillers/Botox and other plastic surgery questions. Live Xeomin and filler demonstration.
BEAUTY: Dee Stefanou, Co-Owner of Andrew Stefanou Salon & Spa will be demonstrating makeup techniques and discussing what the best colors are for warm or cool skintones. Get 20% off any salon/spa services when booked that evening!
FASHION: Erica Jensen, Owner of Helen Ainson boutique will share with you all the hottest trends for spring/summer 2017. What is a capsule wardrobe and why you need it?
SAFE TANNING: Try the spa's new Sunless Organic Spray Tan for a gorgeous golden glow that looks like you just returned from the islands. We love this because it gives you the tan you want without harming your skin with the harsh rays of the sun. Special price of $40 for full body spray tan (normally $50), or bring a friend who tans too and your spray tan is only $30! Please mention you would like to tan that evening when you R.S.V.P. so the salon/spa can schedule you for that night. Please bring dark, loose clothing to wear after your spray tan.
SKINCEUTICALS: Andrew & Dee are proud to have their SkinCeuticals representative join us that evening. She will be there and will be bringing the SkinCeuticals Skin Scope with her. This amazing scope will allow her to look at your skin and determine any sun damage, congested pores, etc.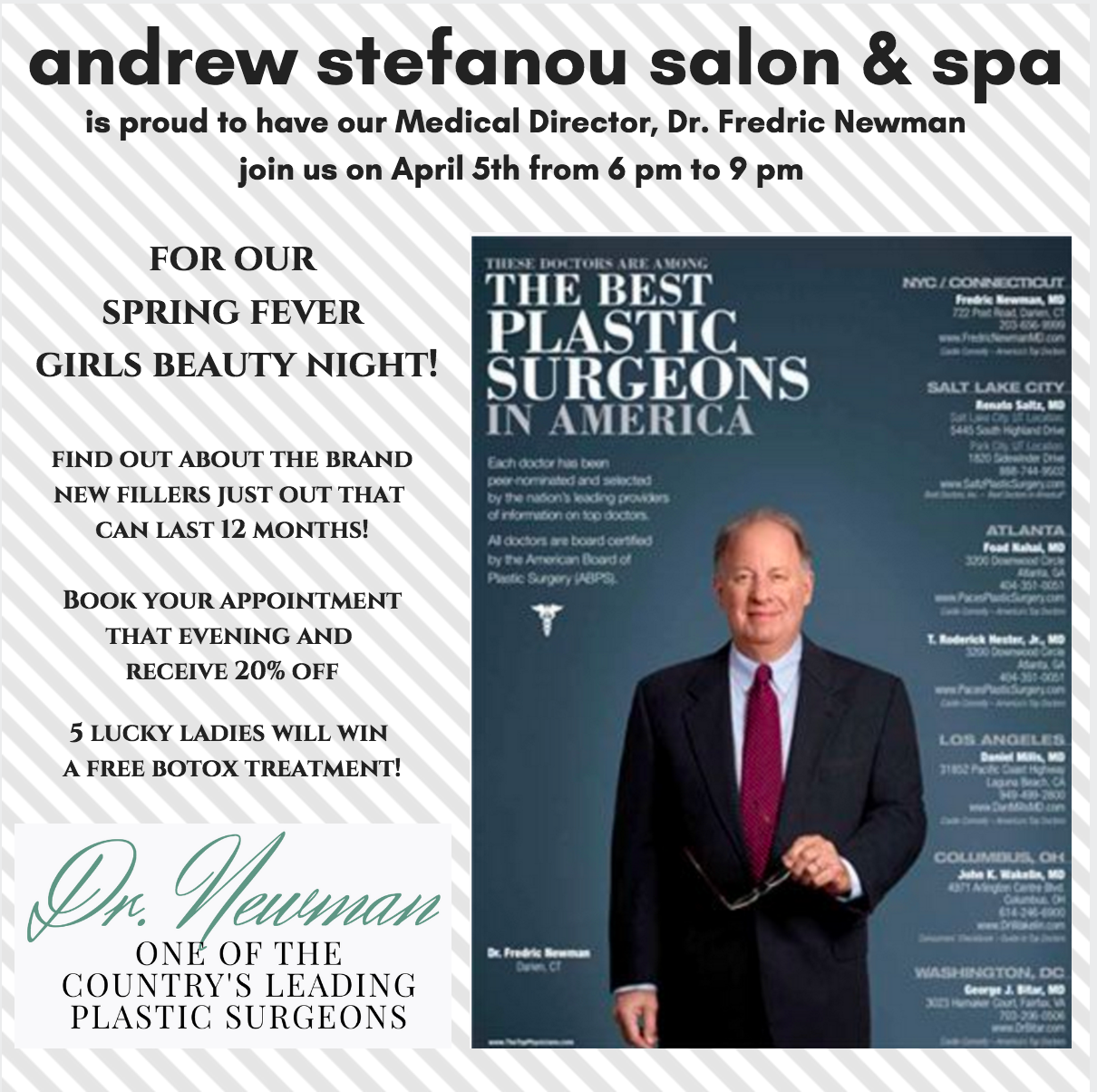 Shop 3 Trunk Shows:
Helen Ainson will have sportswear, summer hats, handmade one-of-a-kind belts, other accessories, and hostess gifts
Trendsetters will be selling jewelry to include, necklaces, bracelets, earrings, and rings to complete any look
SBG Designs – handbags, cell phone cases, gym bags, exercise apparel and more!
More Highlights:
Purchase tickets to win an amazing basket of products, services, and merchandise. This basket is worth over $3,000 and contains pampering, beauty and entertainment you are going to love! We are proud to donate 4 IPL Treatments (value of $1,000) to this prize. All the proceeds from the purchase of raffle tickets will be donated to Smile Train.
Take photos at our "Selfie/Photo Booth" and show off new makeup or your new tan!
Enjoy light bites and refreshments. Pina Coladas too!
End the night with a goodie bag filled with products and exclusive discounts just for you!
Please R.S.V.P. by April 2nd to Andrew Stefanou Salon & Spa (please mention at time of R.S.V.P if you would like a spray tan that evening so the spa can set aside a time just for you)! Hope to see you there!
Schedule a Consultation
If you are considering plastic surgery in Fairfield County or anywhere in Connecticut, contact us to schedule a one-on-one consultation with one of our expert plastic surgeons.
722 Post Road, Suite 202, Darien, CT 06820