There are many methods available to achieve cosmetic facial enhancement, from minimalist treatments, such as professional skin care products, to dramatic procedures, including facelift surgery and blepharoplasty (eyelid surgery). One popular approach that typically offers natural-looking, full-face results with little downtime laser skin resurfacing can also be combined with nearly any modality to provide more comprehensive rejuvenation. Our skilled plastic surgeon, Dr. Fredric Newman, offers a variety of innovative laser treatments to help you achieve your aesthetic goals.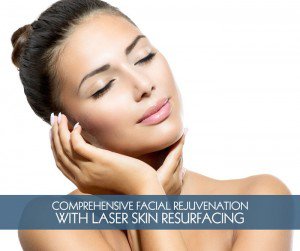 The versatility of laser skin rejuvenation does not stop there. Laser technology offers an abundant selection of benefits, including reducing fine lines and wrinkles, minimizing blemishes, diminishing the appearance of dark spots, and improving skin tone and texture. Furthermore, this method is designed to stimulate natural collagen production deep within the dermis, typically leaving the surface skin unharmed. As a result, this approach pairs well with more dramatic procedures that address skin laxity and deeper wrinkles, concerns that can only be treated using surgery.
Adding laser skin resurfacing to your treatment plan can help you achieve more comprehensive benefits and more youthful-looking skin. Additionally, your recovery period, depending on your selected procedures, should not extend any longer as a result of including laser skin rejuvenation. Dr. Newman will explain all the details of the process with you during your initial consultation.
If you have additional questions about how laser skin resurfacing can help to provide more comprehensive facial rejuvenation, or if you wish to schedule a consultation with Dr. Newman, please contact us today.
Schedule a Consultation
If you are considering plastic surgery in Fairfield County or anywhere in Connecticut, contact us to schedule a one-on-one consultation with one of our expert plastic surgeons.
722 Post Road, Suite 202, Darien, CT 06820