Many breast augmentation patients express concerns about what they will experience in their post-operative recovery. When you come in for your initial consultation, our experienced breast surgeon, Dr. Fredric Newman, makes it a point to go over all aspects of the procedure so you are fully informed and can sufficiently prepare for the recovery period following breast augmentation. While each patient is different and the exact details of recovery will be dependent on your unique anatomy, Dr. Newman will be able to give you an idea of the basic recovery process. Once your procedure is complete, he will also provide you with care instructions to promote proper healing and a reduced risk of infection.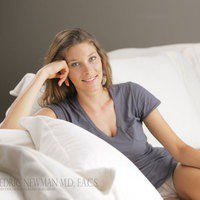 Post-operative dressings are typically removed the day after the breast implants have been placed, and stitches can often be removed in about one week. It is normal to experience swelling and soreness following the procedure; however, any discomfort can be alleviated with medication. While most of the swelling should go down within weeks, it may take a few months for it to completely dissipate. Although Dr. Newman recommends taking an adequate amount of time to rest and recuperate after breast augmentation surgery, most women are able to return to work or other daily activities within a week. To prevent interference with the healing process, he stresses the importance of taking it easy and avoiding strenuous activities for at least the first month after the procedure.
Dr. Newman will be able to give you a more detailed overview of what you can expect during the recovery process once he has evaluated your specific needs. For more information about breast augmentation, or to schedule a consultation, please contact The Aesthetic Surgery Center.
Schedule a Consultation
If you are considering plastic surgery in Fairfield County or anywhere in Connecticut, contact us to schedule a one-on-one consultation with one of our expert plastic surgeons.
722 Post Road, Suite 202, Darien, CT 06820